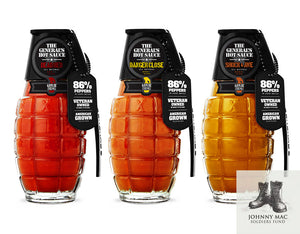 Johnny Mac Soldiers Fund 3-Pack. 
The General's Hot Sauce is honored to support this noble mission. Every purchase of a "Johnny Mac Soldiers Fund 3-Pack"  (one bottle each of our signature hot sauces: Dead Red, Danger Close, and Shock & Awe) will trigger a minimum donation of $7 directly to Johnny Mac Soldiers Fund.  Perfect for hot sauce fans, and a great gift as well, this All-American, all natural hot sauce made from 100% American-grown peppers is as good as it gets.
Johnny Mac Soldiers Fund honors military service and sacrifice by providing scholarships to veterans and military family members, especially to children of our nation's fallen or disabled.
Free shipping. 10% off all orders $50 or higher USE COUPON CODE: 10off. Products usually arrive 2-4 days after placing your order.